Warm Color Palette: Get Inspired with Combinations and Codes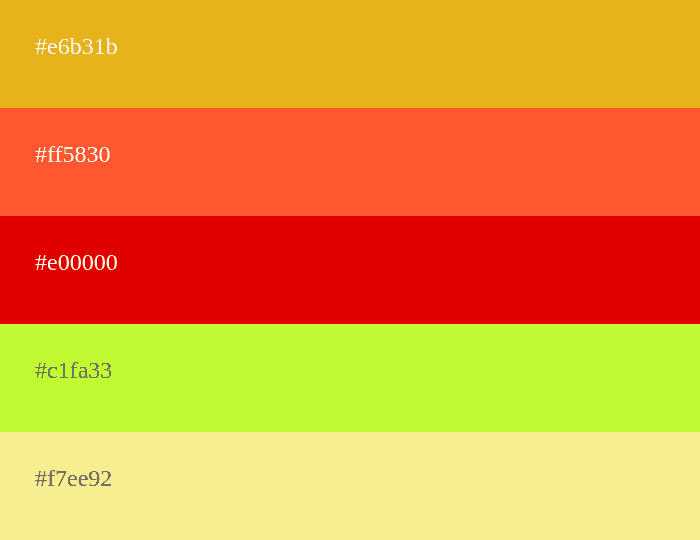 #e6b31b#ff5830#e00000#c1fa33#f7ee92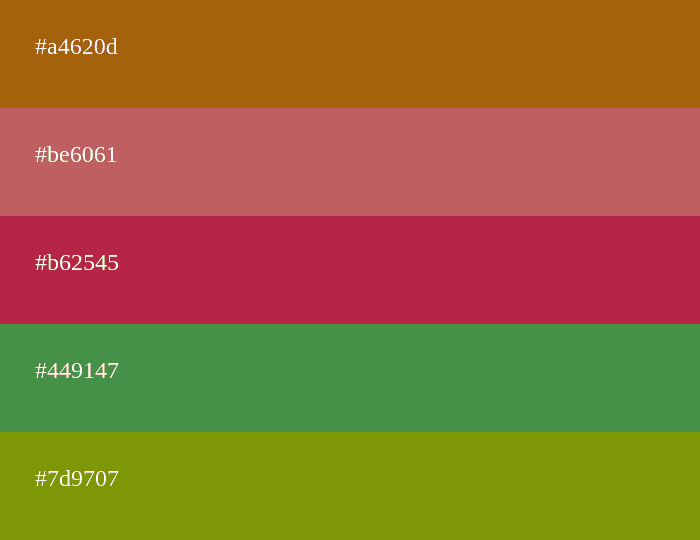 #a4620d#be6061#b62545#449147#7d9707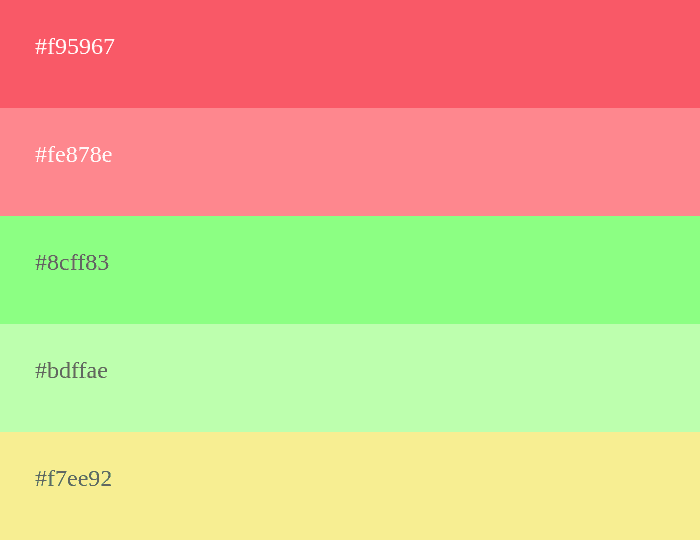 #f95967#fe878e#8cff83#bdffae#f7ee92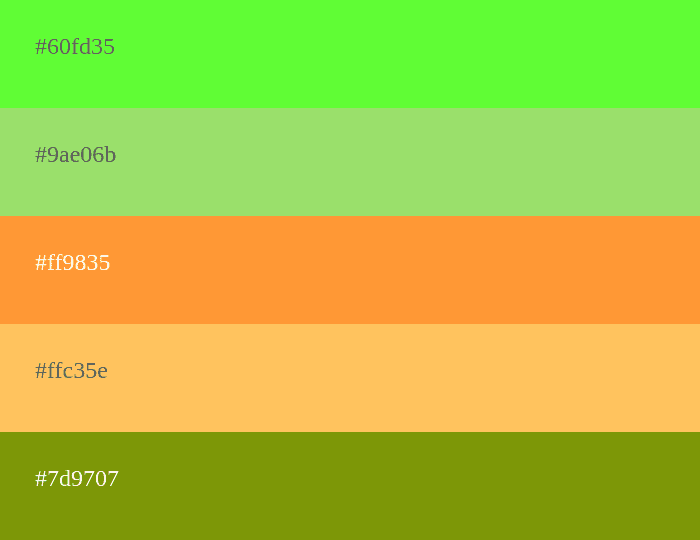 #60fd35#9ae06b#ff9835#ffc35e#7d9707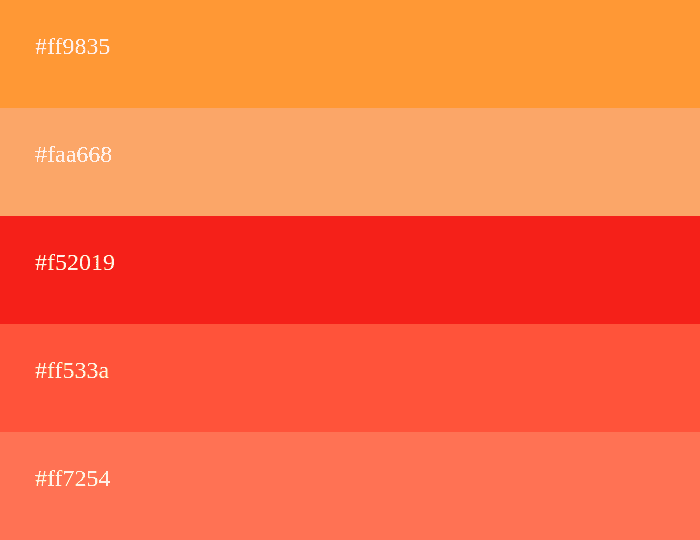 #ff9835#faa668#f52019#ff533a#ff7254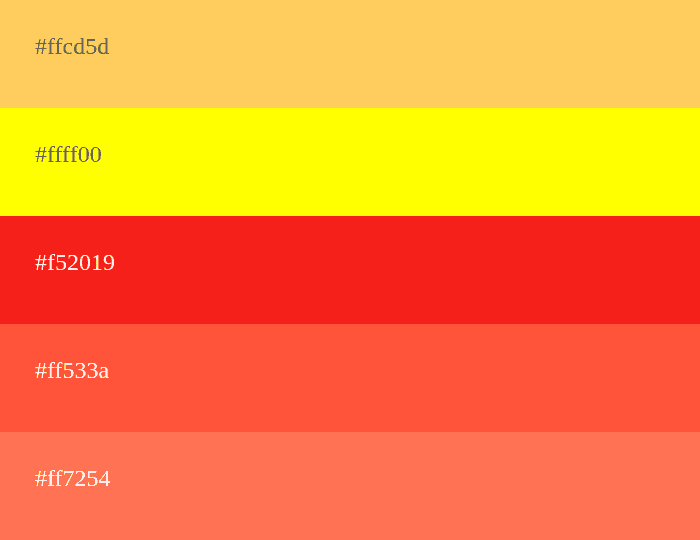 #ffcd5d#ffff00#f52019#ff533a#ff7254
What Are Warm Colors?
Warm colors are a range of hues located on the right side of the color wheel. They are called warm because they convey sensations of high temperatures and are intense, such as red or yellow, unlike pastel colors that are lighter or cool colors that convey completely different visual sensations.
From warm colors, we can create color palettes that blend well by mixing them with cool colors. You can choose a monochromatic warm color palette or play around with your favorite combinations. Warm colors are composed of some of the following colors:
Examples of Warm Colors
These are just some examples of warm colors, and there are many other shades and color combinations that can also create a sense of warmth in different contexts and combinations.
Ideas for Warm Color Palettes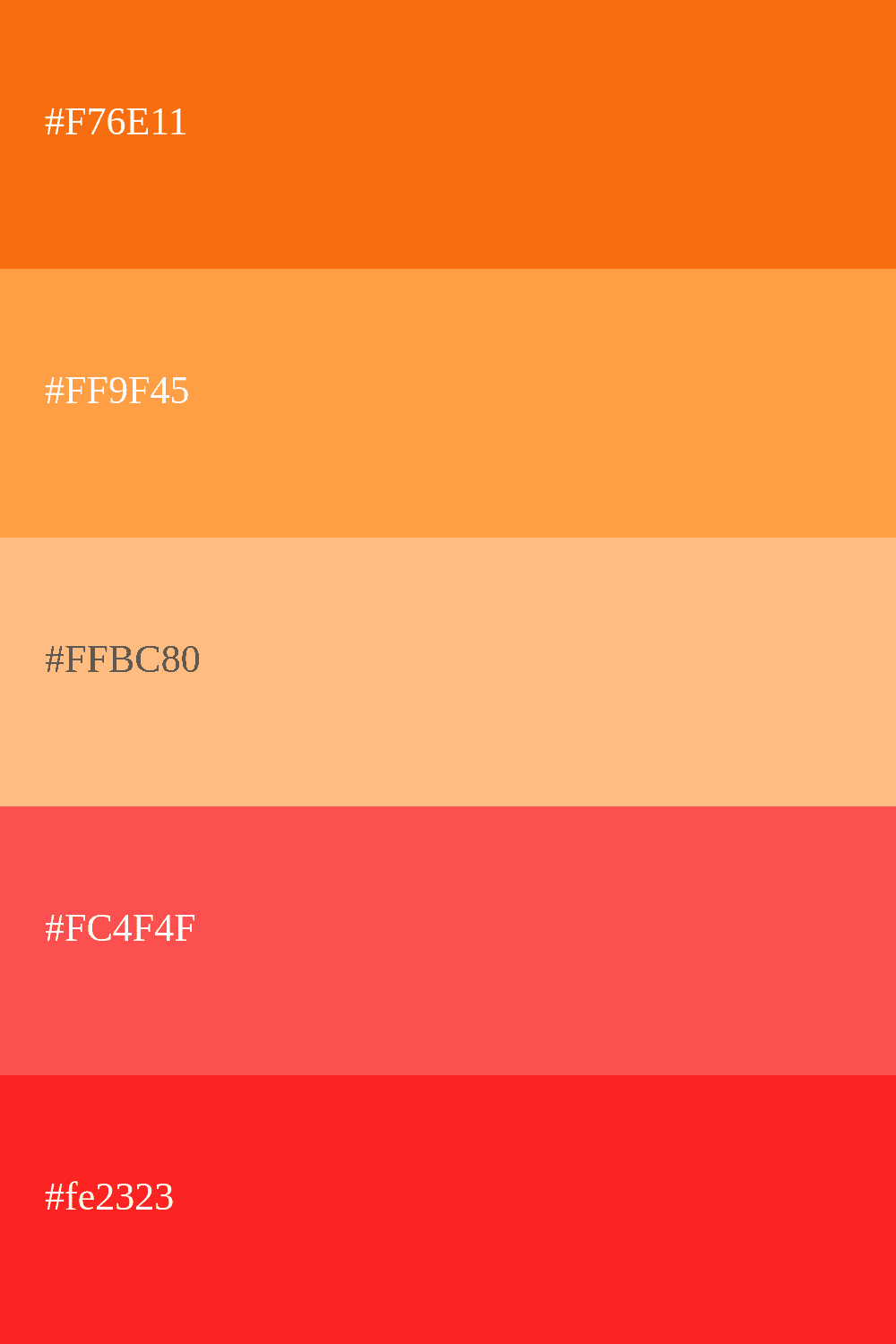 #f76e11#ff9f45#ffbc80#fc4f4f#fe2323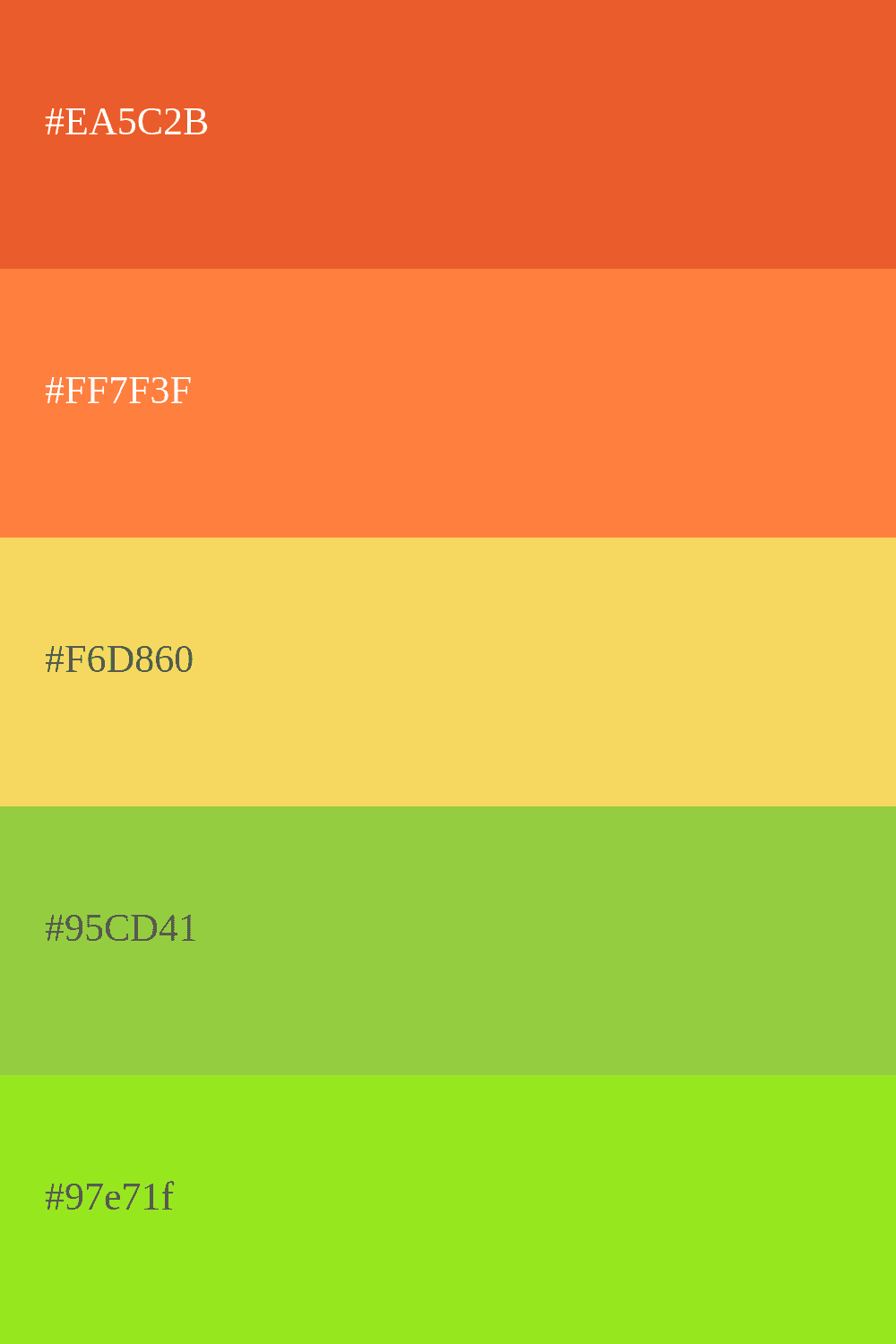 #ea5c2b#ff7f3f#f6d860#95cd41#97e71f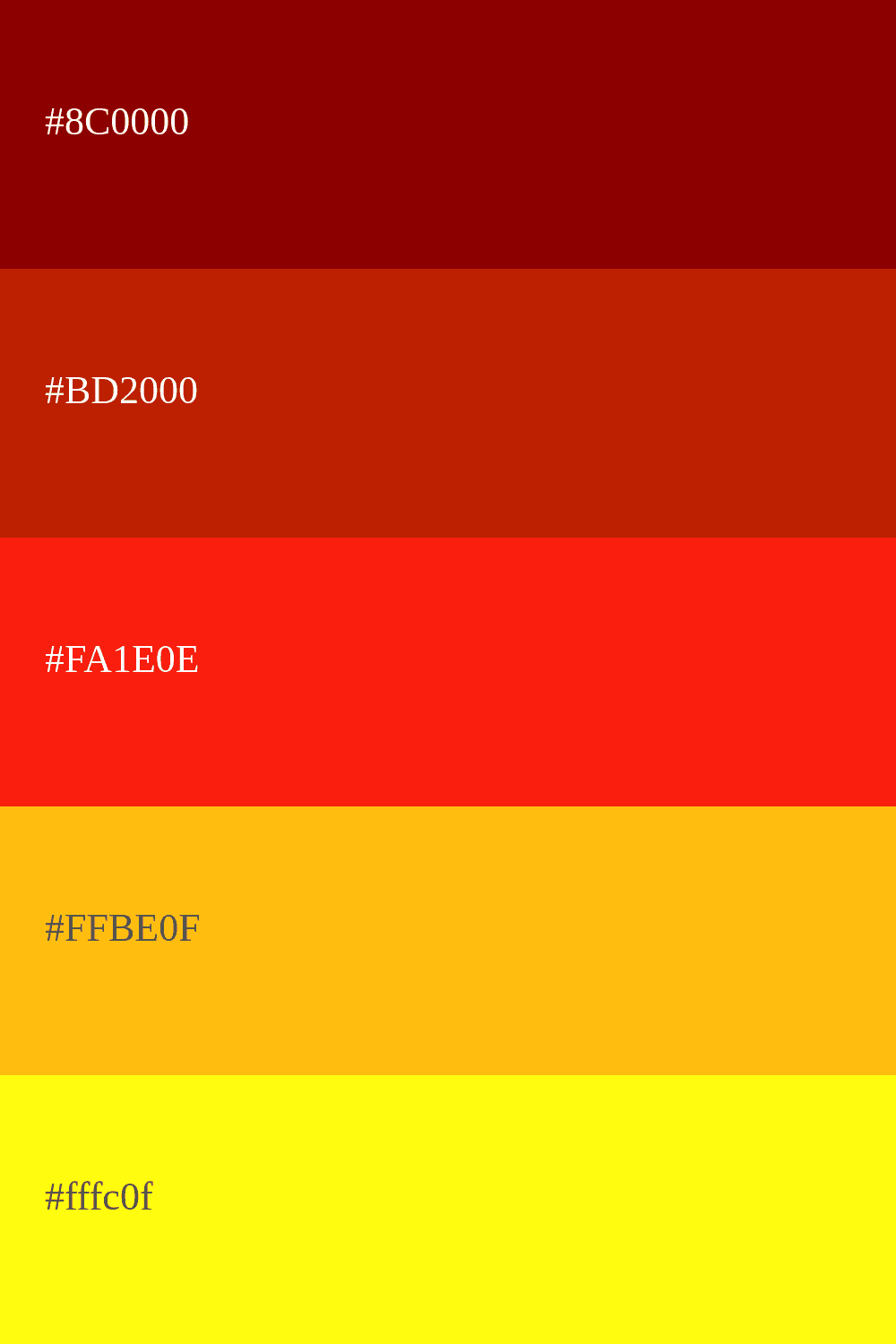 #8c0000#bd2000#fa1e0e#ffbe0f#fffc0f
Frequently Asked Questions About Warm Colors
You can use warm color palettes in your design in various ways. For example, you can use warm colors to highlight important elements in your design, such as headlines or calls to action. You can also use them as a background or to create contrasts with cooler colors. Warm color palettes are ideal for projects aiming to convey intense emotions or create a cozy and inviting atmosphere.
Warm color palettes often evoke emotions such as happiness, energy, passion, and warmth. Red tones can convey love or excitement, oranges can evoke enthusiasm or creativity, and yellows can transmit joy or optimism. In general, warm color palettes are ideal for projects aiming to generate intense and stimulating emotions.
Warm colors have various symbolic meanings. For example, red is commonly associated with love, passion, or strength. Orange can represent creativity, youth, or energy. Yellow is associated with happiness, joy, or vitality. And browns can represent earth, nature, or calmness. However, it's important to note that the symbolic meaning of colors can vary depending on culture and context, so it's important to research and understand the specific cultural interpretation before using them in a design.