Pastel color palette - hex codes and combinations
All the colors within the chromatic circle have a pastel tone, this is obtained by combining a part of white and another color.
What is a pastel color?
A pastel color is a soft, delicate shade used to create a feeling of calm and relaxation. It is associated with femininity and tranquility and is characterized by soft shades of colors such as pink, blue, green , yellow, brown and violet.
These colors range from light to deep, depending on how much white is mixed with the base color.
Some examples of pastel colors are as follows:
White + Yellow = Pale yellow.
White + Blue = Sky Blue.
White + Greenish Blue = Aquamarine.
White + Brown = Ochre.
White + Orange = Salmon.
White + Black = Grey.
The most used are pink, yellow, blue, green, all of them in a light tone. Below you have several ideas of pastel colors with their respective pastel color codes to use in your favorite tools such as canva, photoshop , figma or word.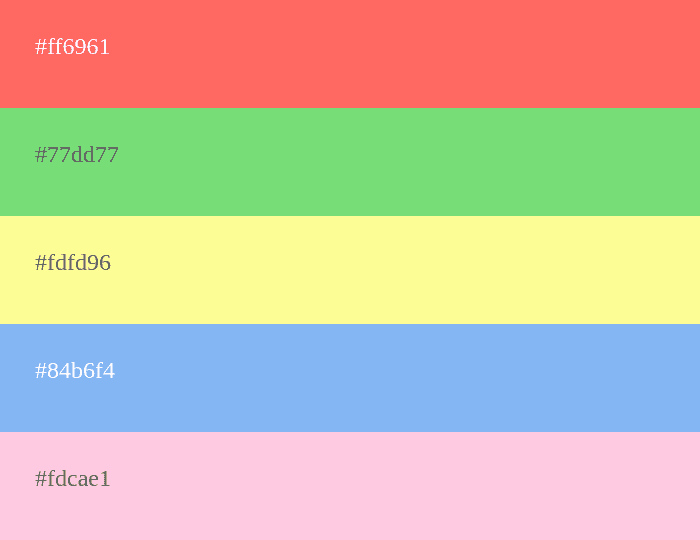 #ff6961#77dd77#fdfd96#84b6f4#fdcae1
#ffe4e1#d8f8e1#fcb7af#b0f2c2#b0c2f2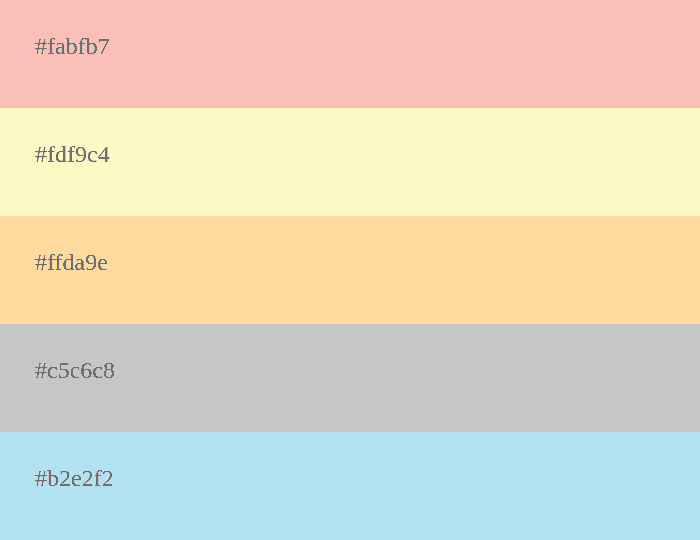 #fabfb7#fdf9c4#ffda9e#c5c6c8#b2e2f2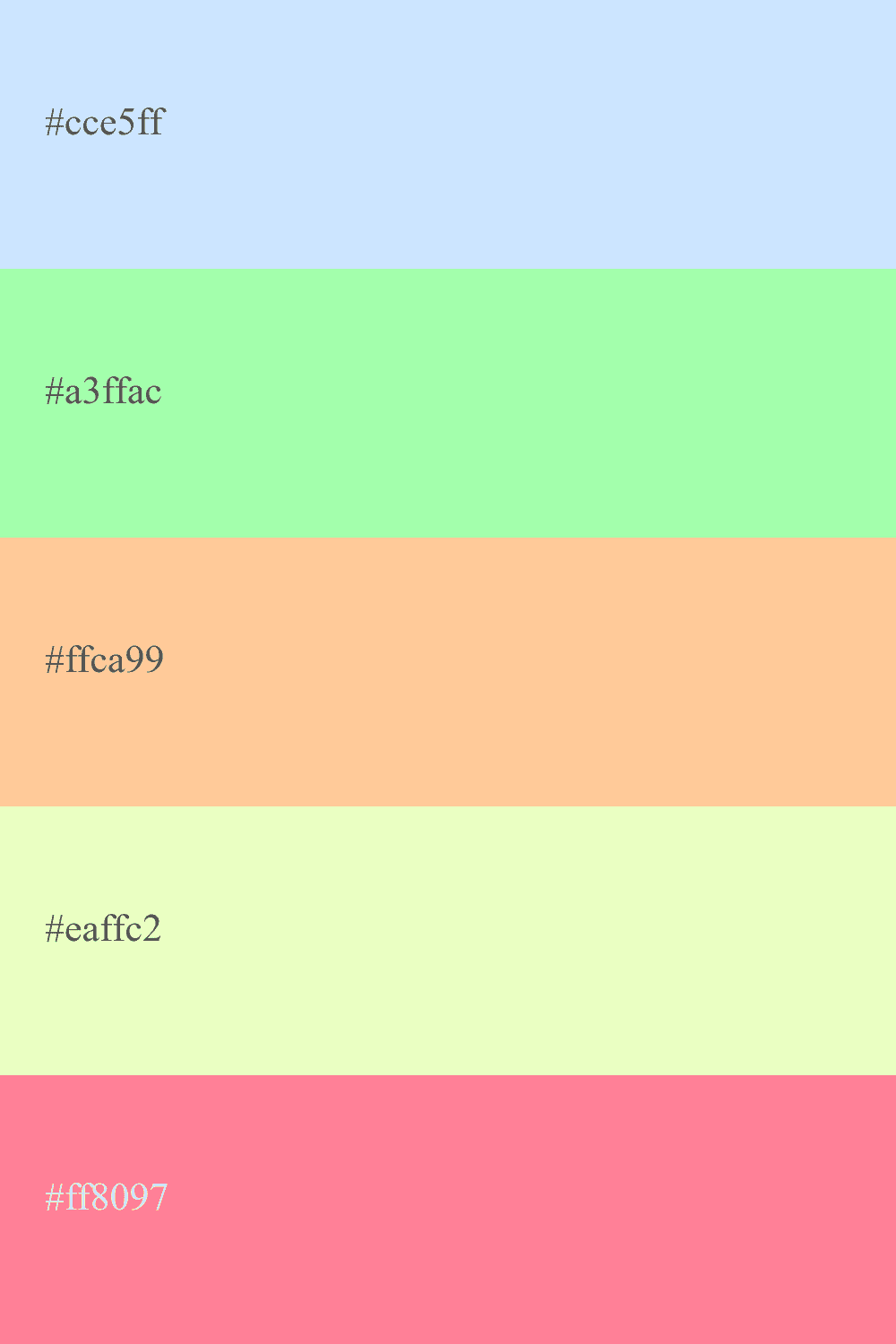 #cce5ff#a3ffac#ffca99#eaffc2#ff8097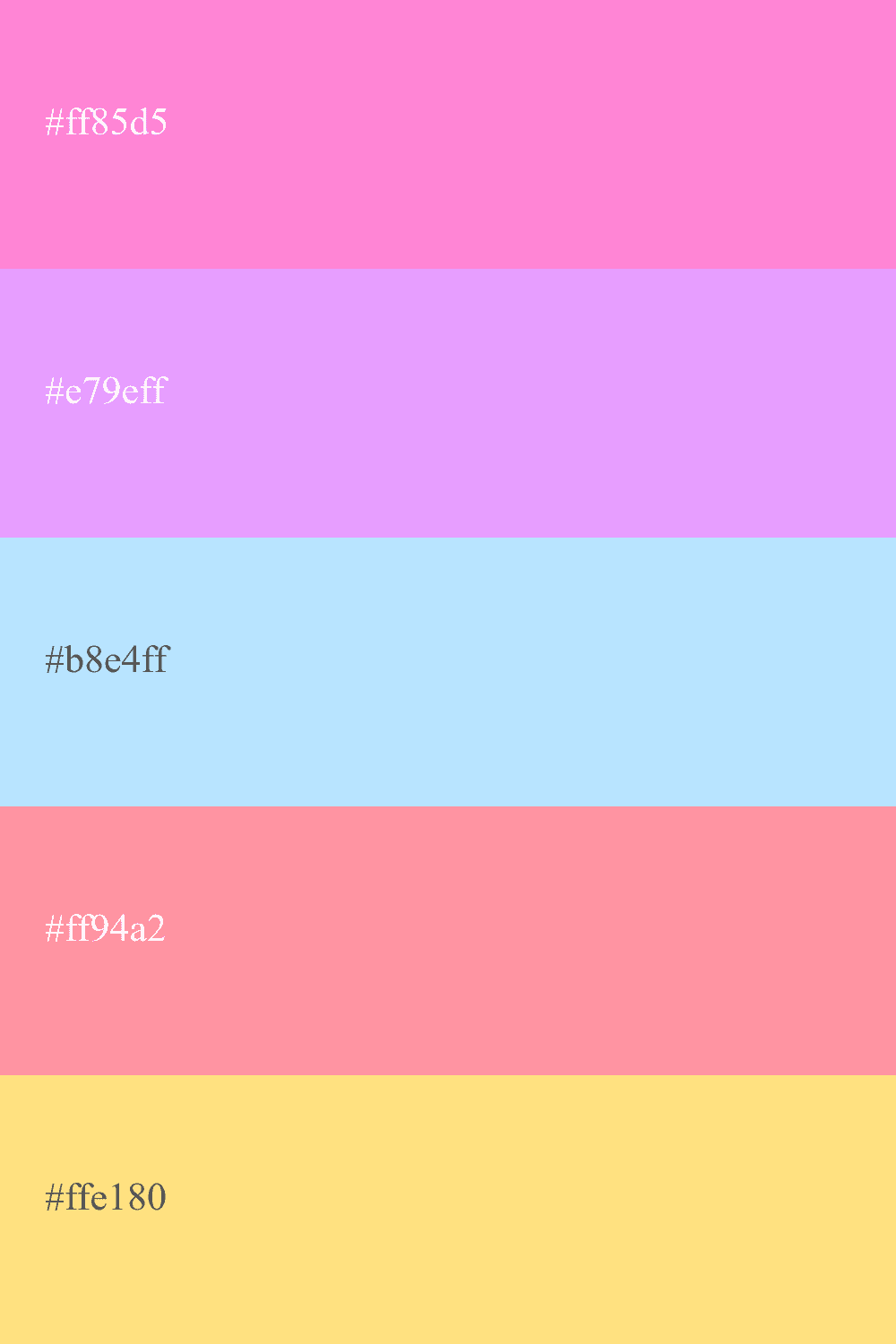 #ff85d5#e79eff#b8e4ff#ff94a2#ffe180
Characteristics that identify pastel colors
Pastel colors share certain characteristics that make them unmistakable, We can highlight the following among their most common properties:
They are obtained by mixing white with another color. For example, in painting, a mixture of three parts of white with one part of blue results in a light blue or pastel blue color.

Pastel colors have low to medium saturation.

We can describe them as: light, washed, neutral or calming.
If you can't find the color you were looking for, you can try our Palette Generator .
Pastel color palette with green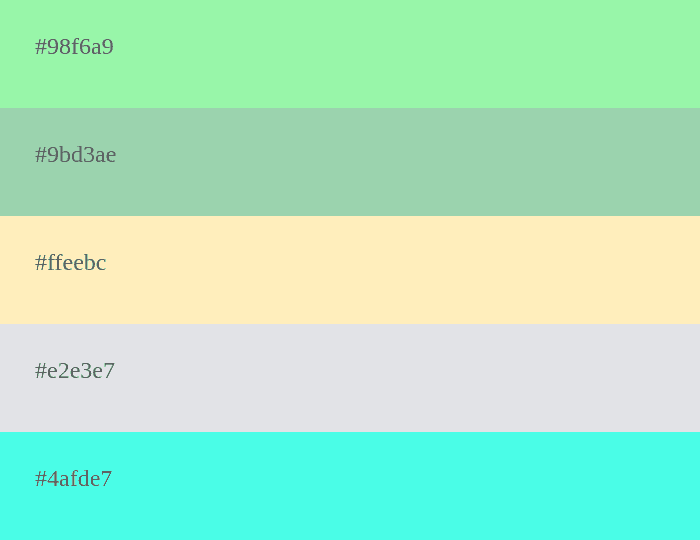 #98f6a9#9bd3ae#ffeebc#e2e3e7#4afde7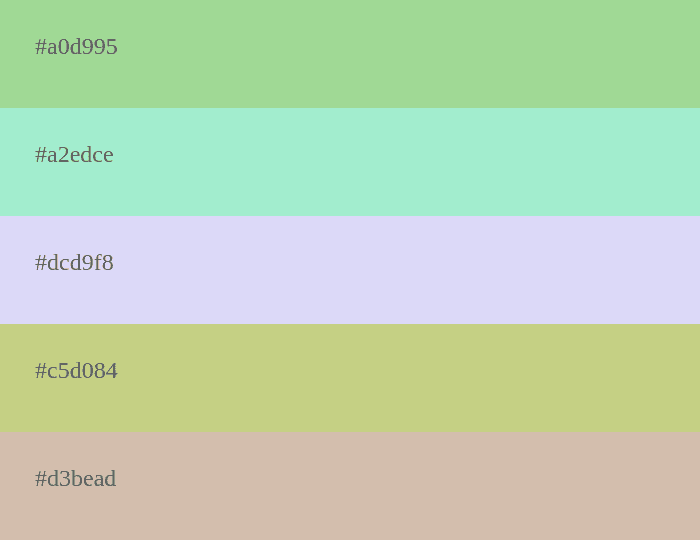 #a0d995#a2edce#dcd9f8#c5d084#d2bead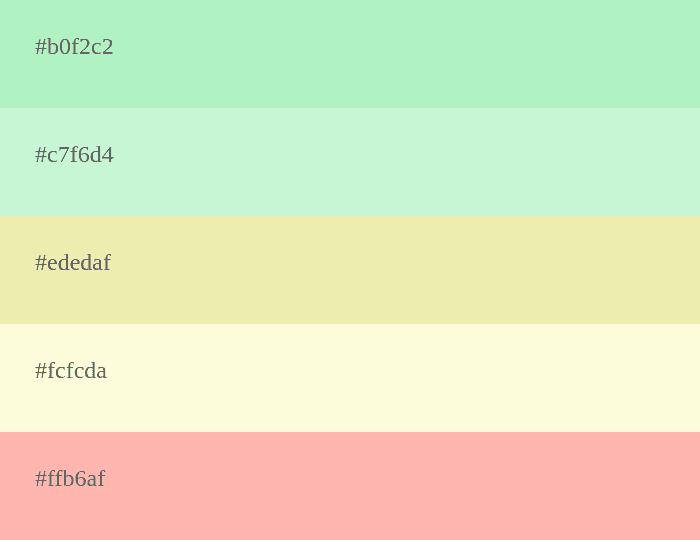 #b0f2c2#c7f6d4#ededaf#fcfcda#ffb6af
Pastel color palette with blue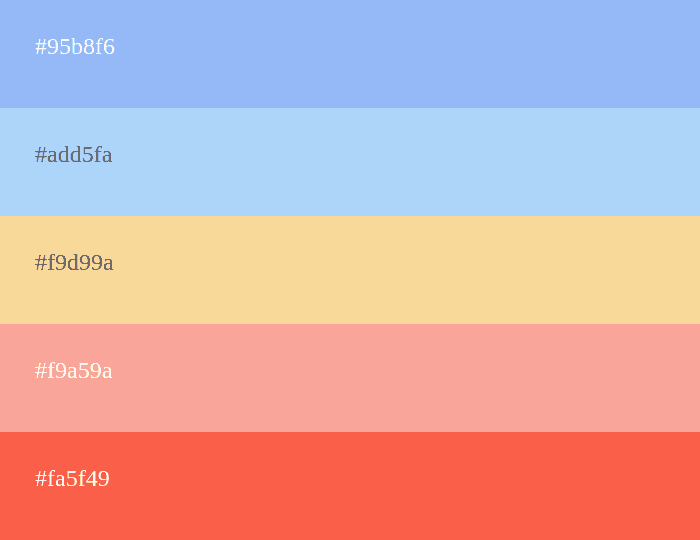 #95b8f6#add5fa#f9d99a#f9a59a#fa5f49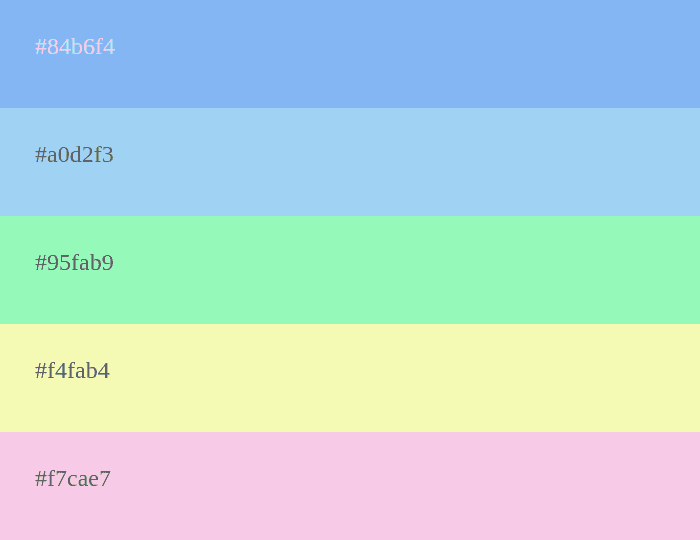 #84b6f4#a0d2f3#95fab9#f4fab4#f7cae4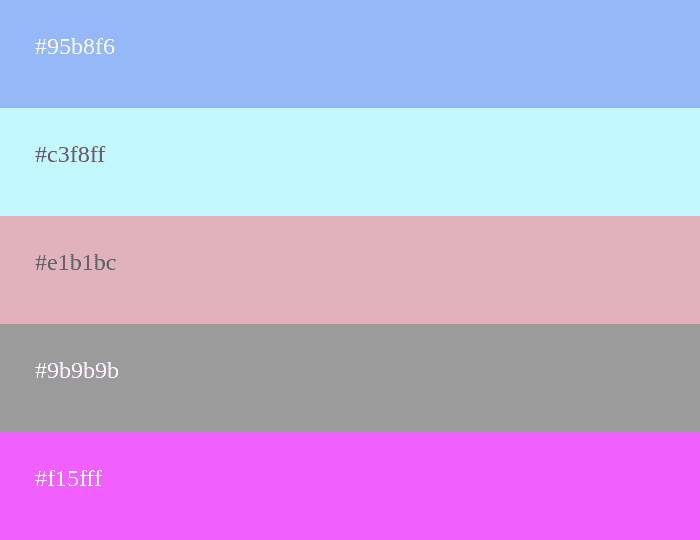 #95b8f6#c3f8ff#e1b1bc#9b9b9b#f15fff
Pastel color palette with purple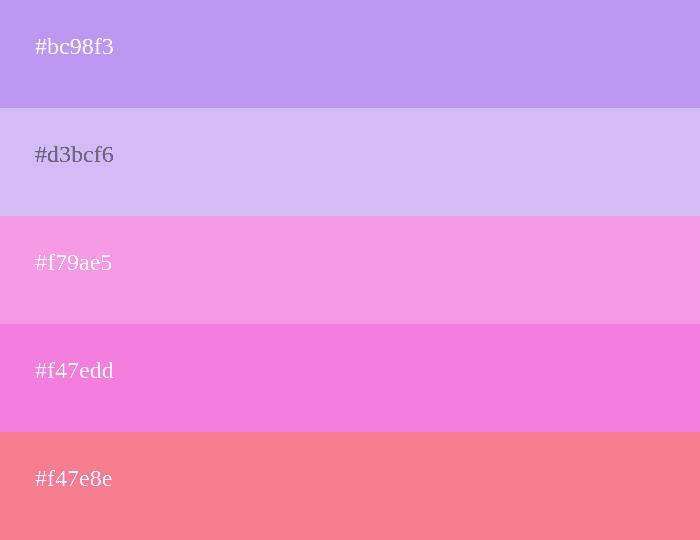 #bc98f3#d3bcf6#f79ae5#f47edd#f47e8e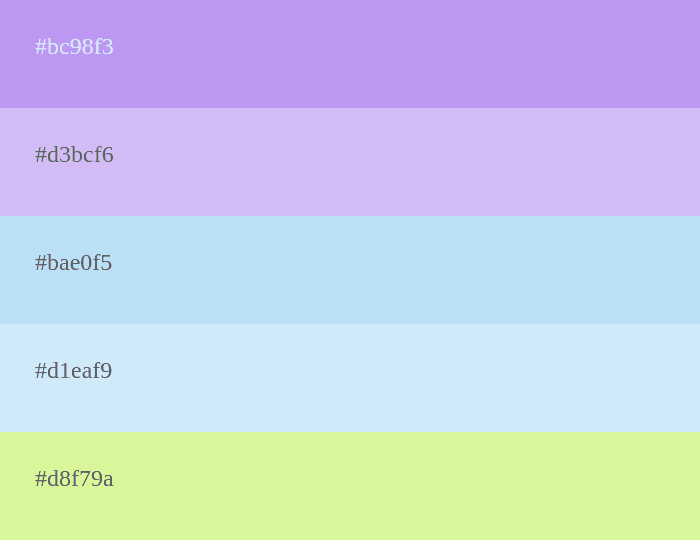 #bc98f3#d3bcf6#bae0f5#d1eaf9#d8f79a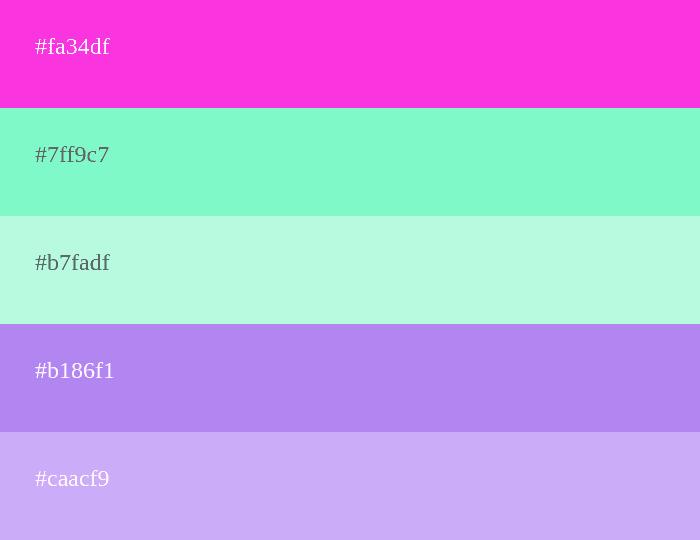 #fa34df#7ff9c7#b7fadf#b186f1#caacf9
Pastel color palette with rose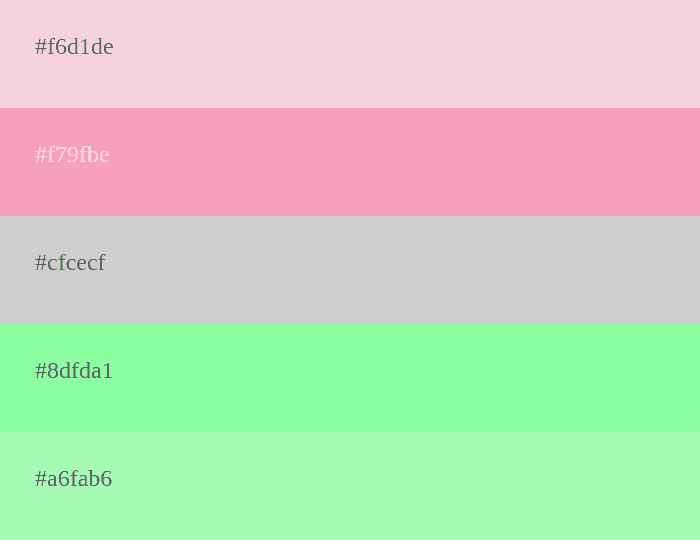 #f6d1de#f79fbe#cfcecf#8dfda1#a6fab6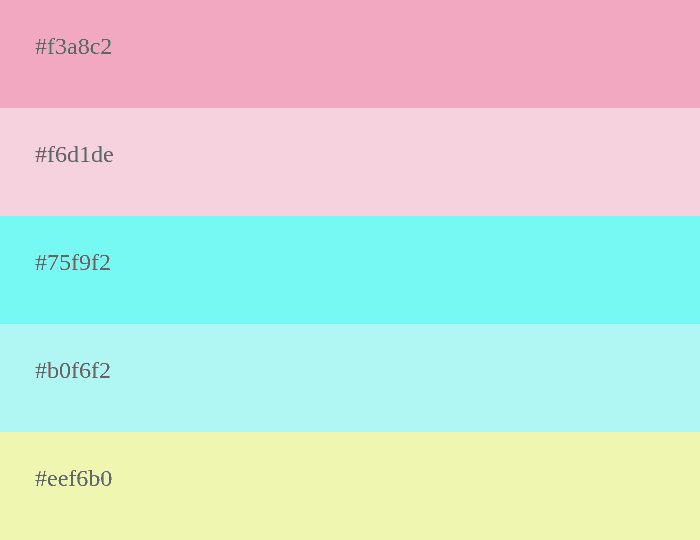 #f3a8c2#f6d1de#75f9f2#b0f6f2#eef6b0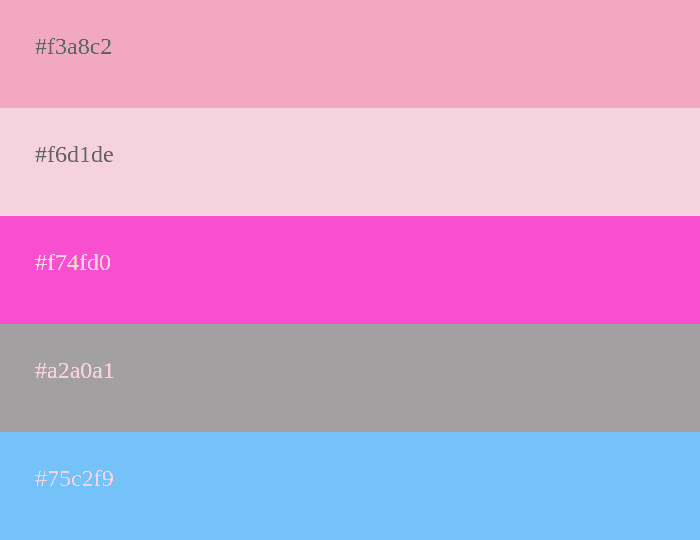 #f3a8c2#f6d1de#f74fd0#a2a0a1#75c2f9
Pastel color palette with red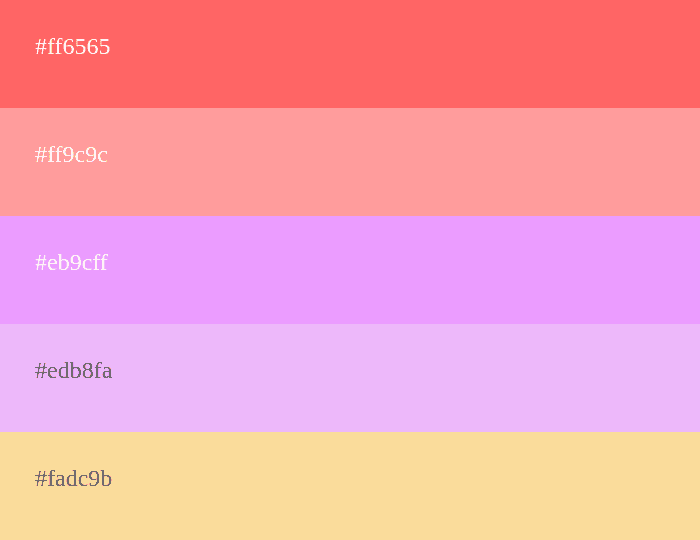 #ff6565#ff9c9c#eb9cff#edb8fa#fadc9b
#ff6565#ff9c9c#9bfae0#c3f9ea#c3dff9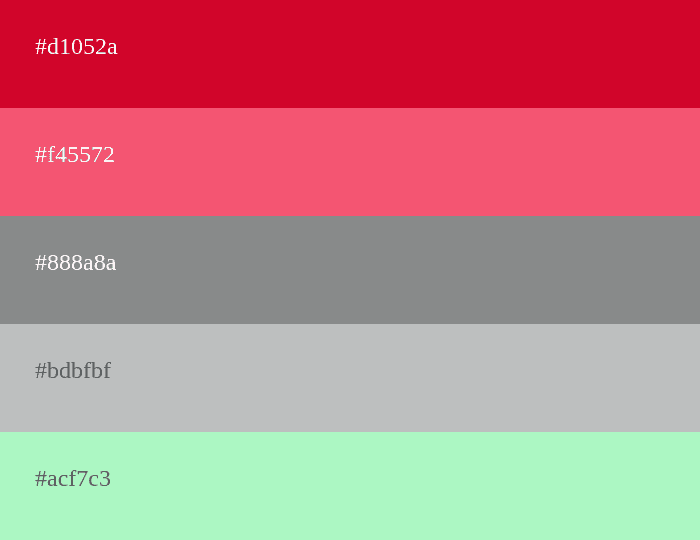 #d1052a#f45572#888a8a#bdbfbf#acf7c3
Paleta de colores pastel con amarillo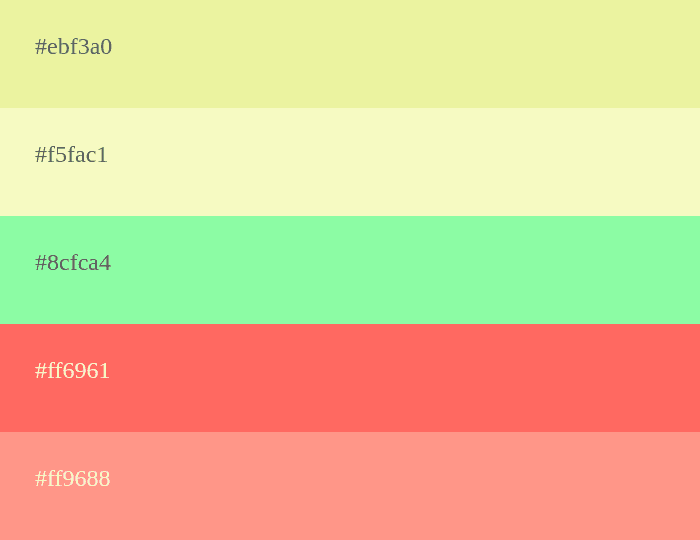 #ebf3a0#f5fac1#8cfca4#ff6961#ff9688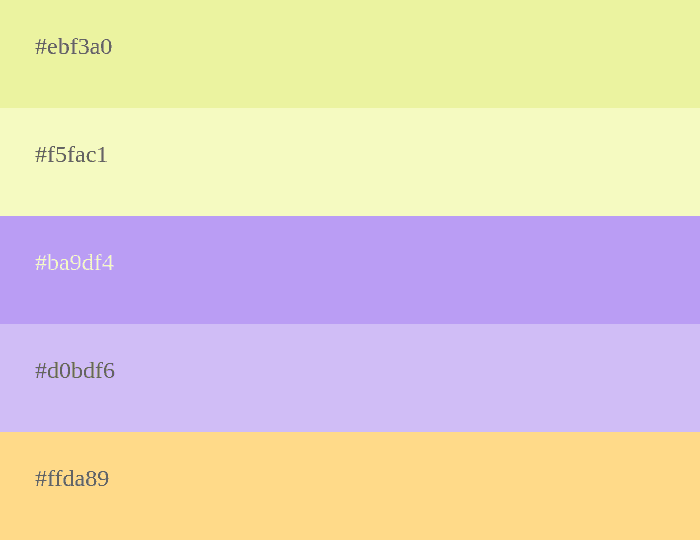 #ebf3a0#f5fac1#ba9df4#d0bdf6#ffda89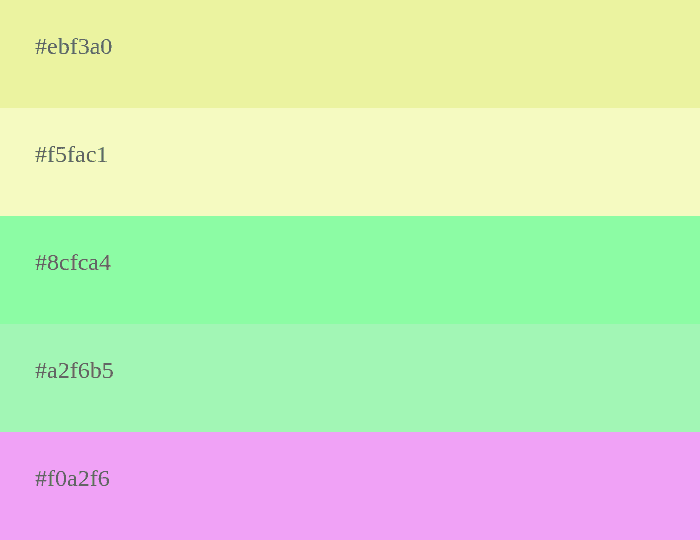 #ebf3a0#f5fac1#8cfca4#a2f6b5#f0a2f6
Monochrome Pastel Color Palettes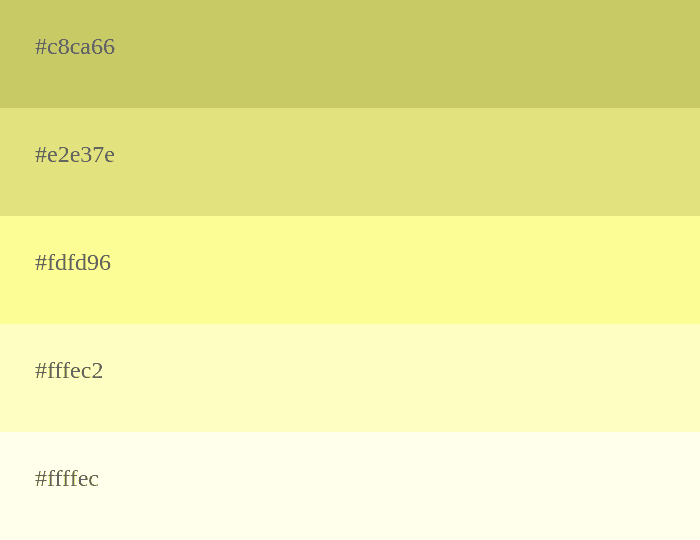 #c8ca66#e2e37e#fdfd96#fffec2#ffffec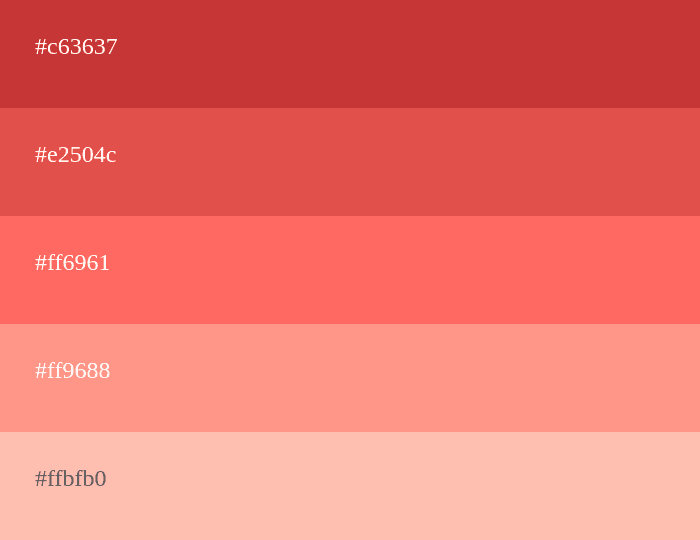 #c63637#e2504c#ff6961#ff9688#ffbfb0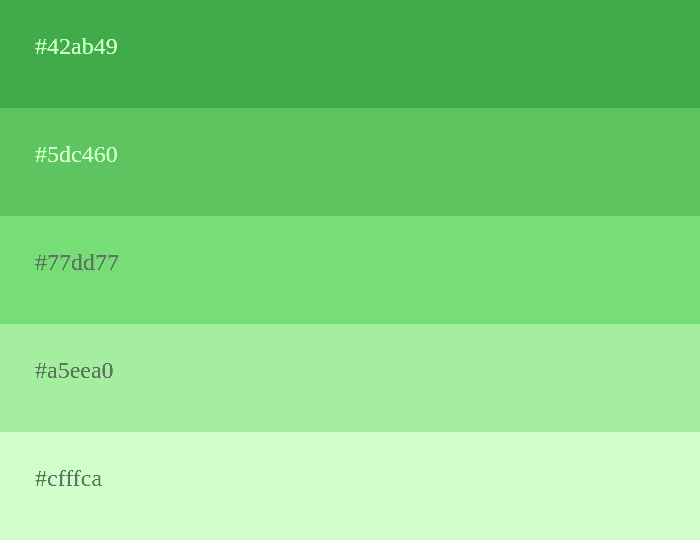 #42ab49#5dc460#77dd77#a5eea0#cfffca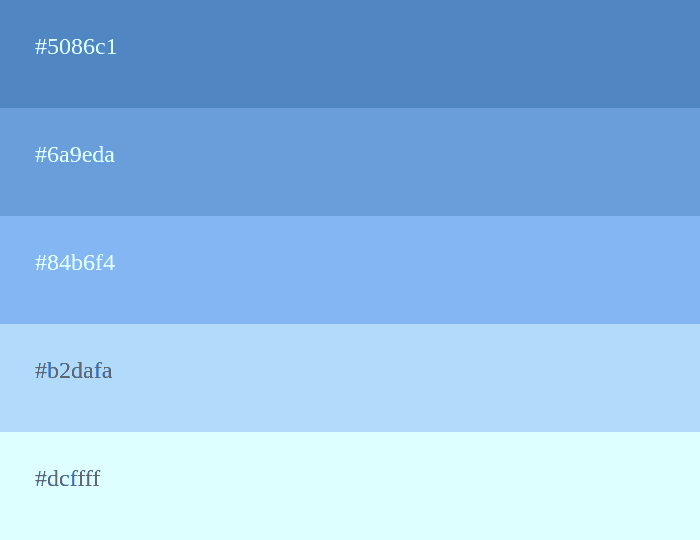 #5086c1#6a9eda#84b6f4#b2dafa#dcffff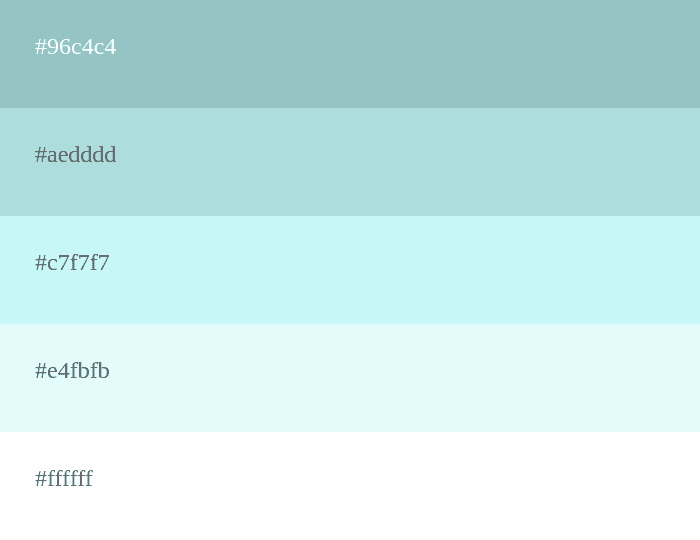 #96c4c4#aedddd#c7f7f7#e4fbfb#ffffff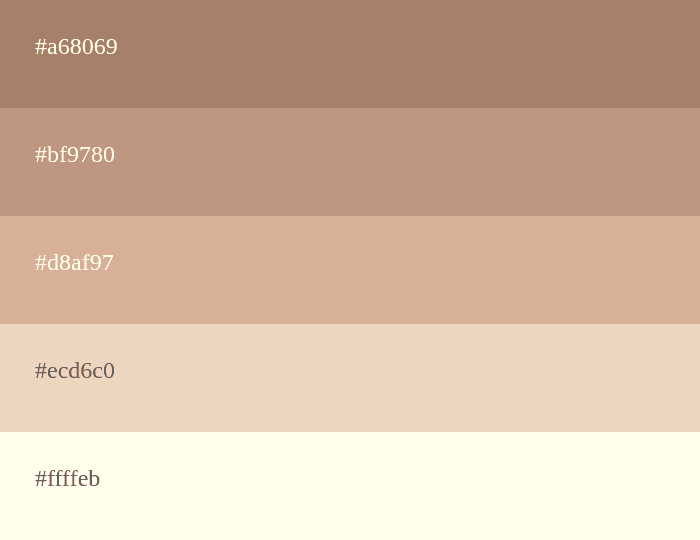 #a68069#bf9780#d8af97#ecd6c0#ffffeb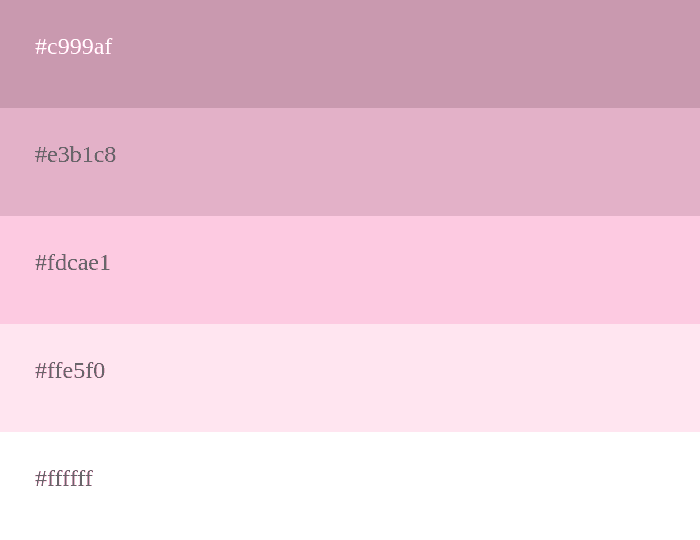 #c999af#e3b1c8#fdcae1#ffe5f0#ffffff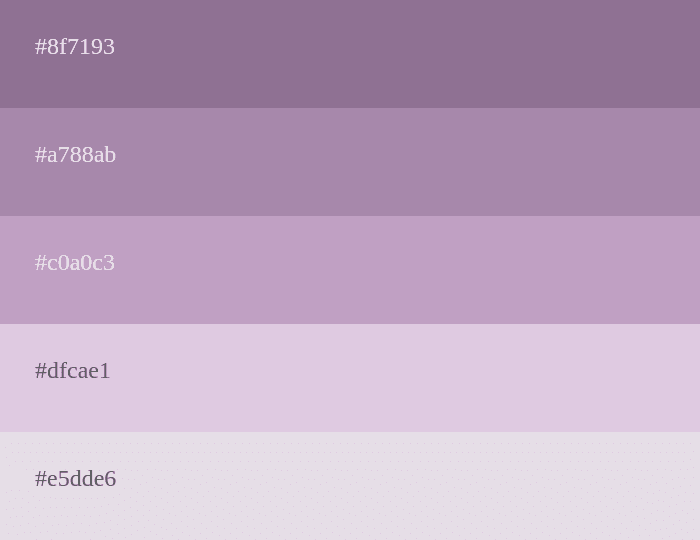 #8f7193#a788ab#c0a0c3#dfcae1#e5dde6